Why Boardmann Is the Best Ironing Board on the Market
At Boardmann, we are obsessive when it comes to designing and developing the best ironing board on the market. We have spent countless hours conducting research and tweaking our designs, and we have developed an ironing board that our customers love, partly because it can slash your ironing time in half.
Although it could be argued that ironing boards are not the most exciting piece of equipment anyone has in their home, the fact is that the average person spends 55 minutes every week doing their ironing, which soon mounts up over the course of the year.
Things to Look for When Choosing the Best Ironing Board
Industrial Quality Build and Materials
We often don't think about it, but your ironing board takes a lot of punishment throughout the year. Being put up and down constantly, stored in a cupboard where it may fall over occasionally, and then exposed to jets of hot steam every time it is used, you want one that is going to last. At Boardmann, we use only the finest quality materials, and we are so confident in the quality of our product that we offer a two-year guarantee. A sturdy board will also inspire confidence in the product and is often one of the things our customers compliment us on.
A Unique Design That Takes Into Consideration the Ironing Process
In much the same way that Dyson examined the vacuum cleaner and then revolutionized its design, Boardmann has taken the same approach to the design of its extra-wide ironing board. We have created a unique design that takes into account specific items such as shirts and their shape to make the ironing process easier. Our boards are also extra wide, allowing your clothes to be spread out easily, with no concerns over bunching up, when laid on the ironing board. This is one of the key reasons why our ironing boards are so popular and why the time it takes to complete your ironing is cut in half. They are also height-adjustable, easy to store, and feature non-slip caps on the feet for added stability.
Sufficient Space for Your Iron
It stands to reason that people who invest in a quality ironing board such as Boardmann are also likely to use a top-quality iron. By its very nature, a steam generator iron is a heavy and solid piece of equipment that takes up considerable space on a traditional ironing board. That is why we have built in a large iron rest which removes that problem and ensures once again that none of your valuable ironing space is wasted.
Built-In Hanging Rail
Once you have got your shirts or other clothes looking fantastic, the last thing you want is to have to hang them on door handles or other unsuitable lips or ledges, which inevitably cause the clothing to fall off onto the floor and crumple. As a consequence, Boardmann built in a hanging rack which provides you with the perfect location to hang your shirts and ensure that your hard work of ironing does not go to waste.
Attractive Heat-Resistant Cover Design
Although the look and design of an ironing board cover make no difference to the quality of the product, we put a lot of thought and effort into the cover design of our ironing boards. In addition to looking nice, our covers are heat-resistant, reflecting the heat from your iron back into the clothes, which helps with the ironing process.
Double-Layer Felt Cover Backing
When tacking that never-ending laundry pile, you need every bit of help that you can get. We have added a double-layer felt cover backing to our ironing board which makes all the difference when it comes to the speed of getting those irritating and stubborn creases to drop out.
Mesh Back to Allow Steam to Penetrate
The final piece of the jigsaw puzzle in our attempts to design and build the best ironing boards is to have a mesh back, which facilitates the flow of steam and enables it to penetrate your clothes again, removing the creases quicker and easier.
These Are Just Some of The Reasons Why Boardmann Is Renowned For Making The Best Ironing Boards
Hopefully, having read through our painstaking efforts to design and build our products, you will recognize the attention to detail that goes into every one of our ironing boards. We believe that we make the best ironing board on the market, and the feedback we receive from our customers daily would seem to confirm that they agree with our thoughts.
Compared with a regular ironing board, we believe you will save time, get better results and, dare we say it enjoy the ironing experience that little bit more rather than dread the thought of dragging the ironing board out of its storage space.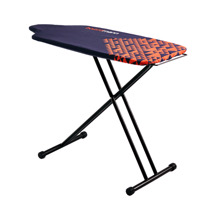 If you have been searching the internet for the best ironing boards, then the good news is that your search has now ended. As the manufacturer of one of the top ironing boards on the market, we are confident that once you try a Boardmann, you won't ever want to use any other brand of ironing board.
Click here to purchase your board today and join the ever-growing numbers of our customers who swear by a Boardmann board.